The AFRICA RALLY 2024
Three weeks of unbridled exploration, life changing experiences, and friends who will be with you for a lifetime. An epic party at the start, an epic party at the finish line, and plenty of opportunity for mischief in between. That's right folks – we're back!
The Africa Rally 2024 will run between 29th June 2024 and 20th July 2024 with a maximum of 50 teams permitted entry. Registration is now live, so what are you waiting for?
To stay in the loop about what's going on, and maybe dive in at a later date, join our mailing list by clicking the I'm Interested button on the right hand side.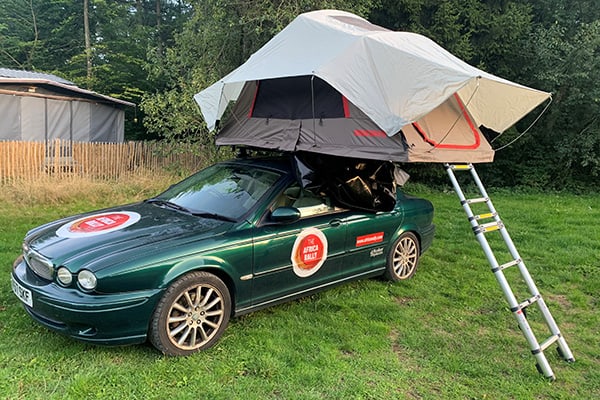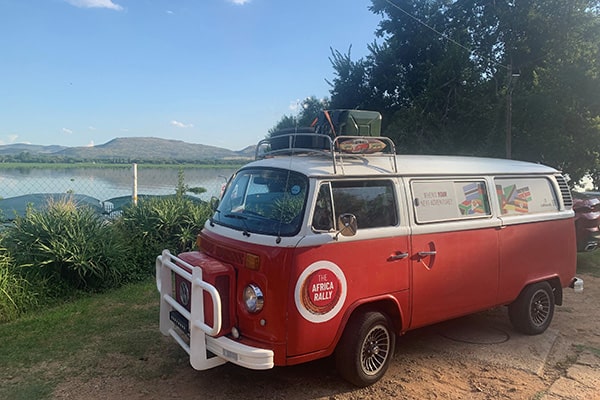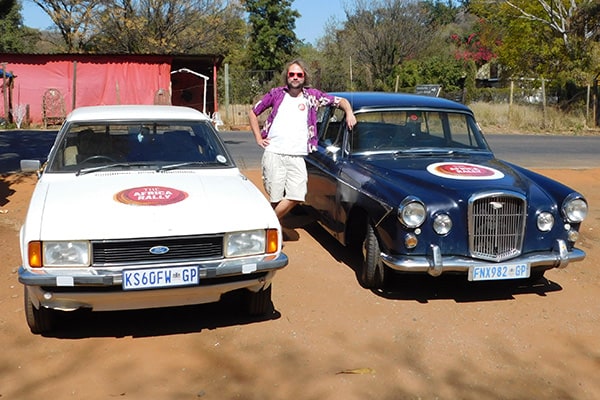 Each Entry Category has it's own unique cost, which is a one off fee for your team, regardless of the number of team members! The crazier the vehicle, the cheaper the Entry Category will be… as we admire your adventurous spirit and want to reward it!
So about the route… you spoke and we listened!
In 2024 the Africa Rally will run two simultaneous route options:
The Challenger Route
 The original South Africa to Kenya route, same start, same finish, same mad beautiful experience of Africa. It shall hereby be known as our Challenger Route, and will always be our favourite route up through Africa.
The Discovery Route
A new looped route from South Africa to Malawi (and back!). This is aptly dubbed our Discovery Route, and is by no means an easier option. Your vehicle will still be tested, you'll still see amazing wildlife, you just have the benefit of being back in South Africa when you finish – useful if you need to return your rented vehicle, or return yourself to work… and other such adulting things.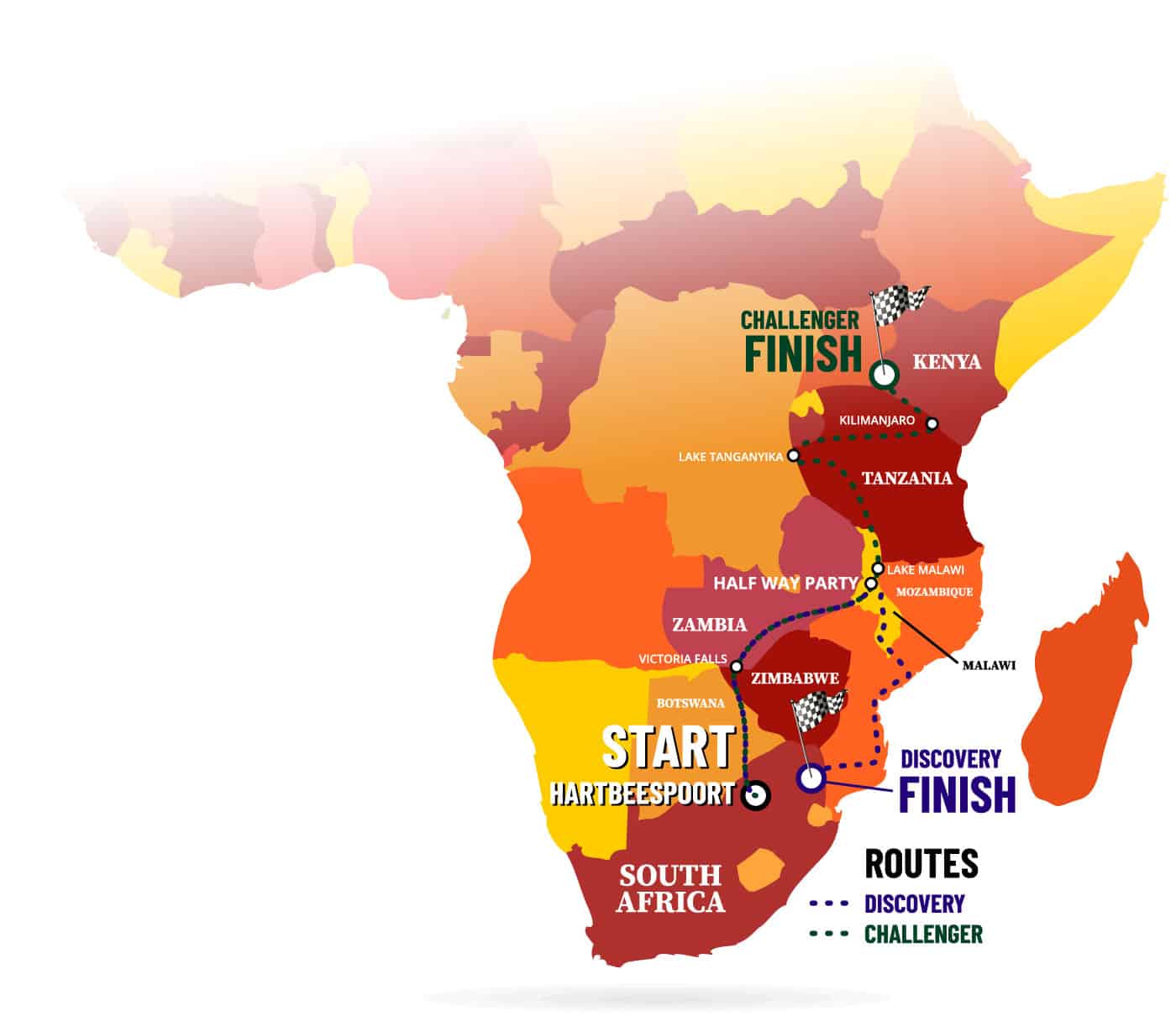 The other element you spoke to us about was the parties… apparently we throw such awesome shindigs (maybe the free booze and free food helps) that you want more of them!
In fact I believe the conversation went something like this…
"What do you want!?
"More Parties!"
Where do you want them!?
"Malawi!"
Given this, and the fact that we also love to party, in 2024 we will be holding an additional half-way shindig where both routes converge in Malawi before one heads north, and the other loops back to South Africa via Mozambique.
What are we calling it? Well… as we heard the words of Bon Jovi ringing in our ears singing "Whooooaaa we're half way there" we decided to theme this party as our 80s Classic!
Think big hair, bright colours, mad Hawaiian shirts – and there will be prizes for the best dressed! Here's our CEO in his usual "office attire" setting the bar: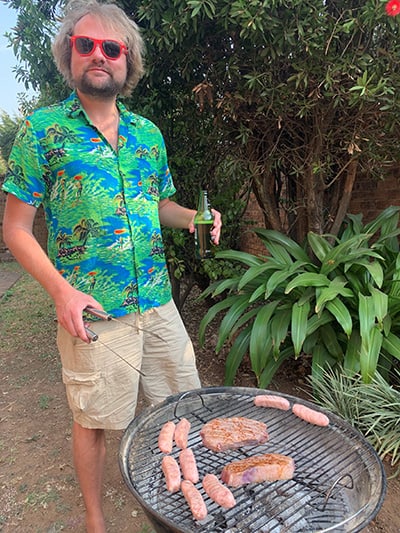 The rallies will start at the same time from the same place, costing the same, and the beauty of all this is, if you get to the half way party and want to change your mind on your route, there's nothing stopping you!
Along the way you can expect ridiculous roads…
…but this is Africa, so anything and everything can happen – the best experiences are the unexpected ones!
What will the entry fee include?
Let's start with the important things – free beer (and wine), at the Start, Finish, AND Half Way parties!
Three all-inclusive parties!?
Yes! Three all-inclusive parties where you don't pay for your beer, wine, food, or camping! …if you want to be fancy and book lodge rooms you can (at a discounted rate), and if you want to drink the harder stuff (such as tequila!) we'll make sure there's a fully stocked bar where you can buy that as well.
We will also be tempting you with a unique Africa Rally Finishers Medal, available to anyone who makes it to either of the finish lines with (or without!) your vehicle!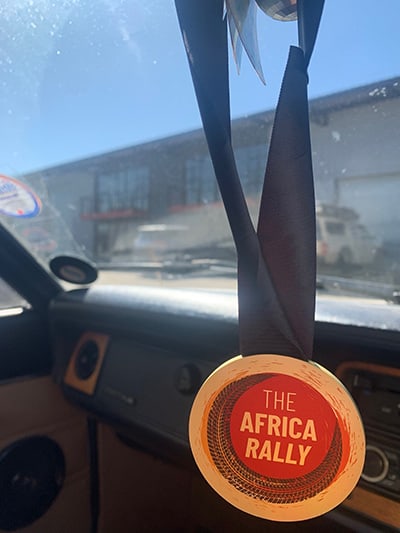 Do you want the Challenger Medal, or the Discovery Medal? 
Do you plan to decide on your route only at the half way point?  No plan, no problem!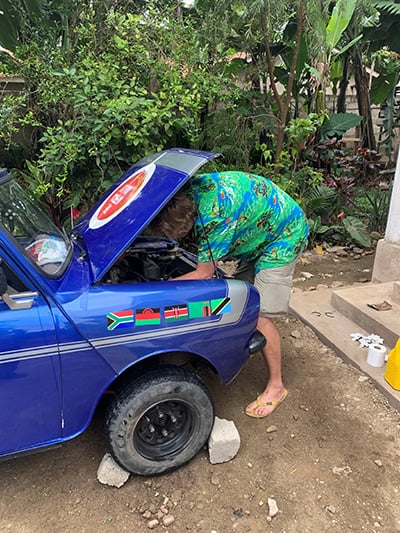 Our entry fee also provides you with some unique Africa Rally team merchandise, and of course your full set of Africa Rally Car Stickers with which to decorate your noble steed.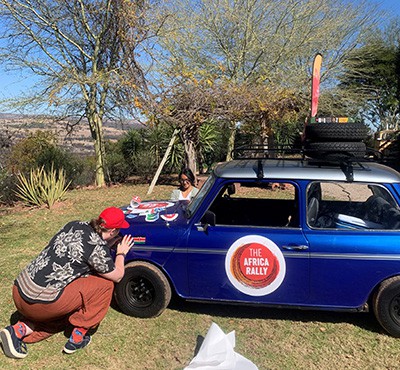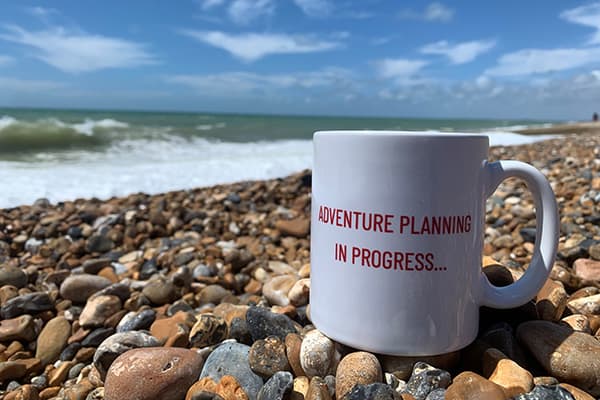 There's a couple of other things you are going to want to consider though, both important and eccentric. For these it's worth checking out our Important Stuff & FAQs and Golden Pineapple Awards Pages… you can probably guess which is which…
Heard enough and keen to get your Team on the roster? Hit the button below to join the adventure!
Welcome to The Africa Rally!
By clicking I'm Interested you have taken the first step towards being part of something truly special; a community of like minded individuals who want to experience the best that Africa has to offer. Find yourself? Find others? Do good. Get lost, stuck, and a little bit drunk. Most importantly live, as these experiences will be with you forever.
Complete the form below to join our community and be the first to know when there are updates. You'll also get advanced notification of future events.
"I never knew of a morning in Africa when I woke up, that I was not happy."
Ernest Hemingway