The Golden Pineapple Awards
In the beginning, there was The Pathfinder Awards, however given it was the Golden Pineapple Award that everyone was drawn to like a freshly graded mountain pass, we felt this was a more suitable permanent name for our Awards.
There has to be a winning team… and that will almost certainly not be the first team to cross the finish line, but instead will be the team to embody the all round sense of adventure and positivity which we are looking to bring back to the world. Maybe you were renowned for helping out fellow teams? Maybe your vehicle is sitting in a ditch 1,000 miles away in a different country and you hitch-hiked in? Random acts of kindness should always be supported, and this is why the Victorious Team will be taking home the Golden Pineapple!
(Disclaimer: Not a real pineapple, 100% suitable for international flights, gold in colour, possible gold in fact, we don't know the difference)
Exactly what it says on the tin! This award goes to the team which has raised the most money for their chosen charity. We've a leaderboard going through GivenGain, so there shouldn't be any question on the winner, and results will be taken on the day of the finish line.
This award will be honourably bestowed on the team crossing the finish line in the best dressed manner, it is important to note that judgement will be made based on how the vehicle is also dressed, not just the team members!
This award will be for the team who have the single wildest experience while on the rally. Did you come face to face with an elephant while taking a wild shower? Did you end up nominated for a government position during an election? Did you enter a drinking contest and wake up in a tree? To be considered for this award you will need to post your experience to social media before reaching the finish line and remember to tag us to be entered!
A classic category but what can we say, we are jealous of the experiences you'll be having and we want to see your photos! Any photo posted to social media where The Africa Rally is tagged can be considered for this award!
The Scavenger Hunt Trophy
Full details of what is required to win this award will only be provided at the start line, however teams should expect an eclectic mix of items and images in order to qualify.
This Award requires video evidence. It shall be awarded to the team able to record the best rendition of Toto – Africa while taking part in the rally. Points will be given for enthusiasm, location, number of people involved, and any musical skill which might be thrown into the mix!
Everyone upon reaching the finish line will receive their very own Africa Rally Finishers Medal so you can look back in years to come on a truly amazing trip.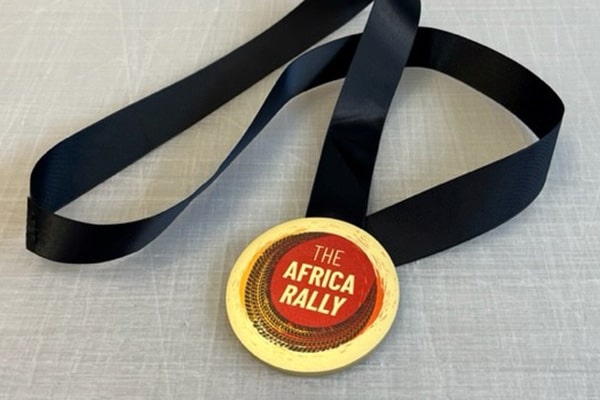 Welcome to The Africa Rally!
By clicking I'm Interested you have taken the first step towards being part of something truly special; a community of like minded individuals who want to experience the best that Africa has to offer. Find yourself? Find others? Do good. Get lost, stuck, and a little bit drunk. Most importantly live, as these experiences will be with you forever.
Complete the form below to join our community and be the first to know when there are updates. You'll also get advanced notification of future events.
"Travel is about the gorgeous feeling of teetering in the unknown."
Anthony Bourdain